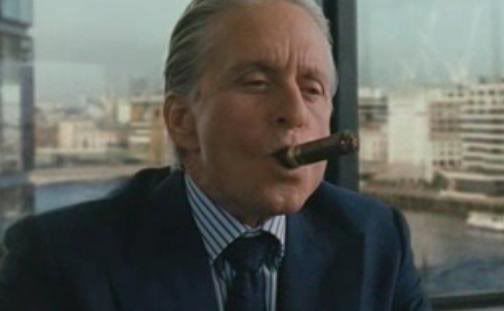 "I ONCE said greed is good ... but now it seems it's legal." Gordon Gekko
Now if you all have seen Wall Street: Money Never Sleeps and the Original Wall Street films, you will notice that Gordon Gekko, (Michael Douglas) is one sly, greedy bastard. However I said to myself after watching the movie, what would you do with the 100 million? Would you give it back or do what he did reap a 1000% return making well over a billion dollars and giving back the original $100 million and pocketing the rest. Throughout the course of the movie I watch Gekko come from Jail and worm himself back into his daughters life, in order to gain the $100 million that he put in her name. She could see this coming but her stupid boyfriend, Jake Moore, (Shia LaBeouf) saw Gekko as a valuable asset in both his girlfriend and his own life. However what he did not see coming was Gekko completely screwing him over.
Personally I thought his mastermind role was a mixture of angel and devil, bad and good, maybe a bit of both. I think the ending shows us that trust is indeed fragile, and gives us an understanding of the bubble theory of life, which is what this movie is about, Gordon Gekko and the economy. Personally i think that making money and being successful is part of the American ethos.
What would you do if you had the chance to gain an investment 10x of the original value and give back the original 100 million to his daughter and her boyfriend, or would you simply be ethical and give the money back?
Here's the trailer for you to see what you think, personally though I say go watch it for sure!